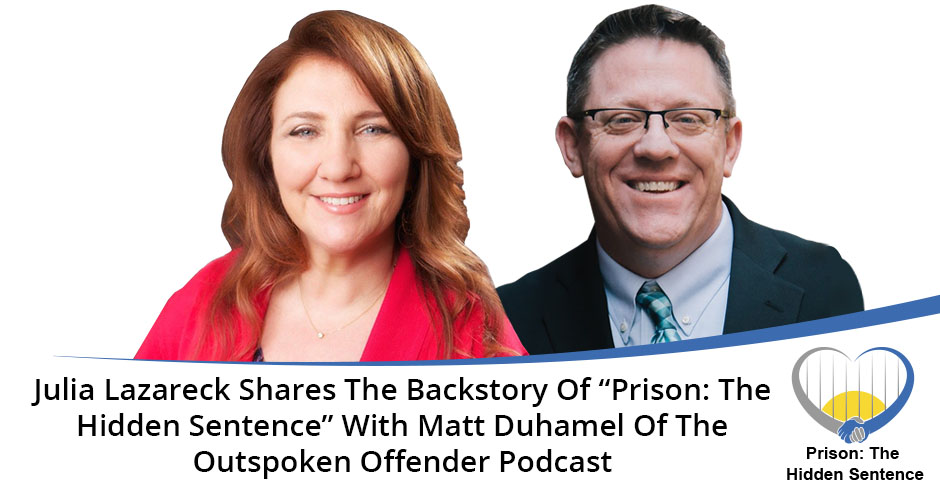 When you experience trauma, you can either become a victim or a cheerleader. Matt Duhamel, of The Outspoken Offender, interviews Julia Lazareck on her podcast to discuss the backstory behind her book Prison: The Hidden Sentence™. Julia is a cheerleader to others who are going through what she went through by sharing the information they need.
Julia wants you to remember that no matter what your loved one is accused of, you can still love them.  It's what they did and not who they are. You need to get to the point of acceptance that you did the best you could with what you knew at the time. Tune in and be inspired to share your story!
---
Listen to the podcast here:
Julia Lazareck Shares The Backstory Of "Prison: The Hidden Sentence" With Matt Duhamel
Prison: The Hidden Sentence™: WHAT TO DO WHEN YOUR LOVED ONE IS ARRESTED AND INCARCERATED I want to thank everybody for being here on this special book anniversary with Julia, myself, and everybody joining in throughout, even international, in Canada. Also, we want to congratulate Julia, first of all, for our Top 100 seller on Amazon. Some of the testimonials from Amazon on the book. Elmo wrote, "Prison: The Hidden Sentence: What to Do When Your Loved One is Arrested and Incarcerated is a big heaping dose of reality.
There are no fairy tales here. If you or someone is involved with the court system, gift them this book. Make sure they know what to expect and how to be prepared. Author Julia Lazareck has thoughtfully written this book as if readers are having a casual conversation with the author. Lazareck's decades of personal experiences speak from the heart providing valuable insights that will sidestep a lot of heartbreak. This should be required reading."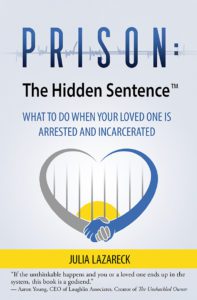 One more from Barbara Allan. She has been an advocate for prison families for many years. She wrote, "As an advocate for the families of the incarcerated, I want to thank Julia Lazareck for writing this book. It is written with knowledge and compassion. It shows sensitivity to a topic not often addressed. It also is a must-read for anyone facing the prospect of involvement in the criminal justice system." The reviews go on, but we'll get here to the conversation with Julia because she is are going to reveal many things that are not in the book. That's the reason why we're doing this and celebrating the anniversary.
Most of you know Julia, I believe, but she is an advocate for change for family members whose loved ones are incarcerated. Her brother received a life sentence and served it when he died of Hepatitis C while incarcerated. Through her blog, podcast, publications and presentations, Julia provides information on the prison family's journey from arrest to re-entry. She shares her story and stories of others to raise awareness and close the empathy gap concerning this difficult journey, which for many people, it is. Julia, I want to start off by saying I've read the book and I think it's great. It gives a lot of wonderful information for people that are involved or have a loved one in the criminal justice system. I'm going to start off by asking you a very broad question. What was your inspiration for writing this book?
Thank you. The book was released in 2020, but I started it several years ago. It was after my brother passed in 2012. I thought that I had gone through this horrible experience pretty much alone and I didn't want anybody else to have to go through this alone. I started blogging because I'm more of a back-of-the-house person, so I started a blog just writing things and then I started talking to people and interviewing them and getting their stories. I thought that if people told their stories, that would make them feel better, as well as let other people hear it, so they don't feel alone.
I took a podcast class and I started a podcast, and now it was more instead of writing stories, it was talking about stories. The more that I spoke to people, the more I realized that I wasn't telling my story, I was telling bits and pieces and I was telling other people to talk about it, but I wasn't. I decided that it was important for me to get out there and to share.
I wrote the book and worked with a company that helped me write it. It took about three years to get it out because during that time, my mom had passed and my dad had Alzheimer's. Life gets in the way sometimes and family is more important. In 2020, when the book was finished, I wanted to release it on a special day and I picked my brother's birthday, which is September 2nd.
The main reason that I wrote the book was because I don't want anybody to ever have to go through this alone. I want everybody to have the information they need. A lot of people on here have somebody that's incarcerated. Some people are learning about it through me that I've told my story, but I would like this book to be out there for other people to read because if you have the information before somebody gets arrested, it's going to be so much more helpful.
There are many things that you don't know and that's the purpose of this book, to give everybody the information that they need, whether they have somebody that's incarcerated and they're concerned about, maybe a child or a loved one that has an addiction or even a mental illness. This is to prepare themselves for if and when this does happen because there are things you can do to protect yourself. There are also things that you can do to keep yourself healthy if and when this does happen. When you experienced something, you can either become a victim or a cheerleader. I decided that I wanted to be a cheerleader, a hero for other people, and to be a voice so that they have the information they need.
Correct me if I'm wrong, I don't want to talk for you, but your experience opened up a new world and compassion for others and for people that have been affected by the criminal justice system. You've now been in their shoes, of other people that have been affected. You talk about it in the book. It says here, "Showing compassion is the key to closing the empathy gap, so people are aware that incarceration affects more than the person who is incarcerated. It affects people on the outside too, families, friends, a lot of people." Can you talk about that?
I can. I've always cared for other people. However, I never realized what certain things do and how it affects families. I had a job with criminal justice products, where I worked with booking systems. I would go into jails and help the officers with the software. When people were in there being booked, I didn't see them as people. I was in there doing my job, making sure they work, could get their fingerprints, take their picture, put it in the database, and other things that happen when somebody is getting booked.
You need to get out there and share your story. Click To Tweet
I brought my brother to the police station to turn himself in so he could get booked. When I was sitting there, I realized that he was going through the process of what I was doing, the software that I was supporting, even though it was a different company. It opened my eyes to how things affect people. It's not even when I think of incarceration. I can think of anything that's out there. I have compassion and empathy because everybody out here is going through something and we don't know what another person's going through.
For me, it opened up my heart, empathy and compassion for other people. Even before I knew anybody that was incarcerated before my brother and you'd see something on the news, some of you might be able to relate to this and then you'd be like, "That's a horrible person or I can't believe they did that." They haven't even been tried yet and then I always think of the family. I can pretty much relate or have compassion for any situation that somebody is going through.
I felt the same way about my situation. The compassion for others opened up, so I can definitely relate to that. Let's talk about chapter two. I want to talk about something titled Court. When I was reading this, this stuck out to me when I was reading her book. This relates to not only the person that is incarcerated. It affects the whole family. You say, "Even though we were only my brother's family, the family making the accusations against your brother looked at us like we had done something criminal. It was so awful. The jurors during the trial looked at us the same way." Through this process, did you personally feel like you had done something wrong too, and people were looking at you that way?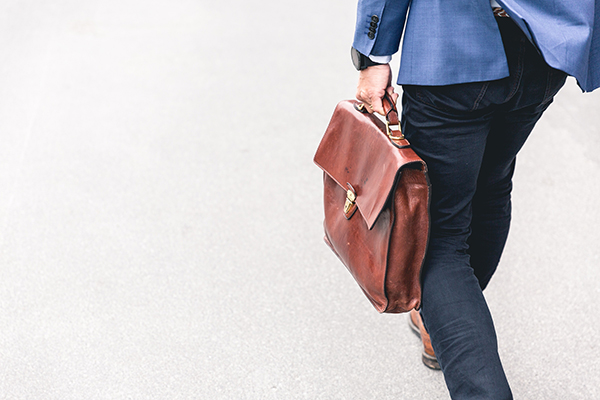 It wasn't a heinous crime that he was convicted of that we'll talk about. Whenever anybody is arrested and it's somebody that is in your family or even a friend, you always look back at would have, could have, should have. What could I have done? Should I have known? Should I have seen that? The guilt, is there something I could have done? I should have known or I didn't know. Why didn't I know? All these things go through your head of what you could've done to avoid this or to help your loved one, and still, you need to get to the point of acceptance that you did the best you could with what you knew at the time.
How would you know about things that you've never experienced before? How would you know what to look for? There's so much that you don't know and you can't blame yourself. It's coming to that point of acceptance where when you're going through it, there's all this fear, shame, guilt and all these feelings because you don't want your loved one to hurt and you want to make what I did for my little brother. I wanted to make things better and there was nothing I could do.
It's this powerless feeling and that is scary, but having support groups that you have on a monthly basis, if I'm correct, is wonderful to have and what we're doing here now, knowing that they're not alone in this process. Your book is great because it breaks down the pre-trial situation, the trial situation, in some ways what you can expect, and then it goes into even visitation. Some people reading may not have experienced that going in and visiting a loved one yet. You talk about that in your book. I have been on the other side of it. I have not visited somebody myself. Maybe you can give some thoughts and suggestions on people going in and visiting a loved one.
It's a good question to address right now because of COVID. There are people out there that haven't seen their loved ones in over a year. Remember, it's what they did. It's not who they are. You still love that person that's incarcerated and you haven't been able to see them in a year that they're in lockdown and you hear these things that are going on. It's heartbreaking. Luckily, a lot of the prisons have allowed free phone calls, so people have been able to talk to their loved ones. 2020 has been a horrible situation for everybody. Visitation is limited, and remember every state, facility to facility can be different. You need to call the facility to see what's available, what visitation is like, what you can bring.
Make sure you know the rules, but during COVID visitation, people can't touch each other. When they go in to a visit, normally you can get a hug and maybe a husband, wife, boyfriend, girlfriend can kiss, and then you sit down and then you can be next to each other. You could hold hands or be close. With COVID, they have plexiglass between two people and they can't touch. They're yelling at each other because there are no holes in the plexiglass to talk to each other for it to go through because you don't want to have the germs and the air going through. It's difficult, so if you are going for visitation during COVID, know that it's very different.
Otherwise, in the book, there's so much information to know when things are back to pretty much where we can see each other and sit with each other and talk to each other. You need to know what to wear because certain colors aren't allowed in jails and prisons because you can't have the same color as the inmates that are there. If you're wearing the wrong color or maybe a sleeveless shirt, or your shorts are too short or sandals, you could be turned away. When you're traveling, especially like I was, 3,000 miles to see my brother, you don't want to get turned away, so you need to know what to wear. In the book, we talk about bringing extra clothes just in case the guards won't let you in with what you're wearing, to know when visitation is, how much money you could bring, and what you could bring in.
The book talks about count. You can be there and that's one of the things I forgot to tell my husband when they called count. He's like, "What's that?" You need to know that you can be sitting there and they can call count and your loved one, and everybody else has got to stand up, get counted, and then come back. When you go to know that you're going to be frisked, that there are certain things you can't bring, that they can search your car, that once you're in the visiting area, you can't leave. There are so many things that you need to know that are in the book about visitation and the emotional toll when you see your loved one for the first time when you're sitting there in the visiting room and they walk in. It's a sobering experience.
However, I do want to say that it's important to keep the prison family together. When somebody is incarcerated, the majority of people are coming home. When you maintain that relationship with them, when you talk to them, send them letters, and keep them involved in the family, it's going to make things so much easier for when they come home. My brother didn't come home. He had Hep C. In the book and a lot of you have heard me talk about it.
I talked about it in Christina's interview also that my husband and I hadn't been there for a while. We moved and life got in the way. It had been a while before I visited him. We went that year, 2012. It was the beginning of June and when we got there, we were sitting there waiting for him to come through and he's wheeled in a wheelchair. The guard was wheeling him and we didn't know he was so sick. He was all jaundiced and his stomach was protruding. He was on oxygen and it was terminal. He had Hepatitis C and I never knew Hepatitis C was terminal.
Now everything's on the internet. Back then, we didn't look into it and didn't realize it. That was on a Saturday, and on June 14th, 2012, we got a call from the assistant warden. I want to say we were lucky because not everybody gets a call, especially now with COVID and everything. He told us that he had passed peacefully. I was fortunate that I got to see him that last time.
You mentioned in that chapter, Power of Attorney. How important is that?
Aside from his Hepatitis C, he was in there for fifteen years, so he had back problems. He had skin problems. There were different things and I would have to advocate for him. Having that power of attorney is so important, no matter where you are, even if you're in Canada. Whatever the legal paperwork is, to have that paper, that power of attorney, or maybe it's a medical power of attorney or permission, a HIPAA form, so that you can get information. It's important that you have that and that you can advocate for your loved one, especially if they're not well and have a mental illness.
You need to be vulnerable and talk to people because if you don't get your heart out, it's just going to make you sicker. Click To Tweet
There are so many things that you can do on the outside for your loved one and I didn't know that back then. I didn't know that I could do more for my brother, but having that information or form when I did call enabled me at least to advocate a little for him when he wasn't well and also, it enabled me to get information for when he passed.
This is true. People who have a loved one in prison are able to contact the prison to discuss certain issues like health issues and stuff. Is that something that people can do?
Yeah, and that's an important part in the book that you can call the prison. Don't forget that they work for you. We might feel it might be difficult for some of us to call. It was for me initially. However, you can call the warden, the assistant warden, or the caseworker. When my brother was in the infirmary, I did speak to the doctor once. I spoke to a nurse. You have every right to call. Of course, you want to pick what you're calling for.
One of the concerns is that there's going to be retribution to your loved one if you call too much, but you have every right you need to know when to call and when to advocate for your loved one. When you do call, just like you're talking to anybody else, treat everybody like a person. Be nice to them, respectful, and you'll get the information. Sometimes you might need to call a couple of times and speak to different people, but you have every right. Thank you for bringing that up. That's so important. People don't realize. I didn't realize I had that right and that's why it's in the book because everybody has that right.
We can advocate for our loved one to make sure they're in a certain way and making sure that they're healthy, and getting what they need medically to a certain extent. I liked this chapter five because you talk about not only keeping in contact with a loved one and making sure things are going as smoothly as possible, but keeping a healthy you. Make sure that you're healthy on the outside. You talk about that in the book. Can you maybe discuss that for people reading?
The most important thing is to take care of yourself because if you're not taking care of yourself, how can you take care of your loved one or anybody else? For me, the majority of the time that he was incarcerated, I faked it. I went through the motions. Some people on here knew me during that time. There are some people on here right now that didn't even know my brother was incarcerated at that time and probably thought maybe I was a weird person because sometimes you get emotional for no reason. It was mostly from the time that I was making my reservation to see him to the time I got home that I was a mess. I was depressed. It was difficult for me.
Another question has popped up in my head. What you just said, it was very difficult for you with good reason. You're going through a lot of emotional roller coasters and you mentioned other issues with your family. It was your dad. How did you move past that? How did you rebound from that and push through that? Now you're an author and a speaker. Maybe that will help others that are reading if you can give them tips on how to move past that.
It wasn't after until my brother passed that when I looked back, I realized that I was living a hidden sentence and that's where Prison: The Hidden Sentence comes from. The whole time that he was incarcerated, I was outcarcerated. For some reason, I thought I couldn't enjoy my life. How could I enjoy my life when my brother was sitting behind bars? That was difficult for me. I probably drank more than I should during that time. I would put on a happy face when I wasn't happy. How I came out of it was I found people to talk to. I found a local support group that I would go to and being around other people who understood what I was going through and maybe had more time in it than I did and learned from it.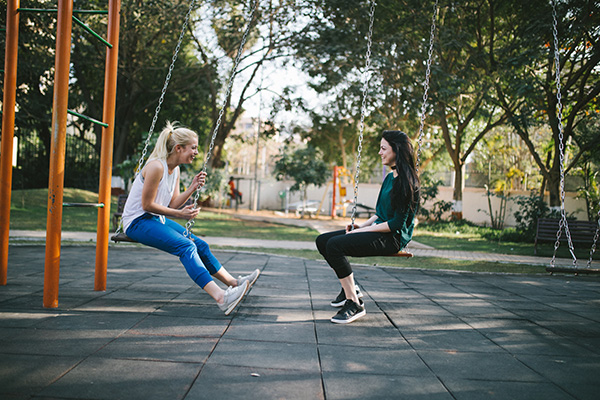 I know there are some people on here that were part of that group. That helped me a lot by being able to talk to other people, being with other people that have been through it, and getting some professional help. I went to a therapist. Unfortunately, the therapist I went to didn't know a whole lot about incarceration, so I ended up schooling her. Eventually, I did find somebody to help me. It's getting that professional help. There's nothing wrong with it. It's finding safe people.
When I started telling my friends about it, they were understanding and they were like, "Why didn't you come to us sooner?" It was because I didn't know how to talk about it. That's what we tell people now and when I say we, I'm talking about people in the support groups, that you can talk about it and getting it out is helpful because if you keep it inside, it's going to eat away at you. You need to break away those bars around your heart. You need to open it up, be vulnerable, and talk to people because if you don't get it out, it's going to make you sicker.
Talk to people. Find people that you can talk to, a support group, friends, or a therapist. Take care of yourself, exercise, and walk. I joined a gym and I started working out. That was helpful for me. The treadmill was good. It's whatever works for people. Meditation helps or just quiet time, if you can't do that meditation, just to sit quietly. There's a lot of things you can do to take care of yourself and little things like my necklace here that my friend Sandy made. You can't see it, but it says laugh on it. Little things that make you happy, have things around your office that make you happy. I have a slinky.
That is generally associated with fun and games.
There are many things that you can surround yourself with. It's the little things. Sometimes it's hard to get through the day. I remember times when it was minute by minute. I would get through the next minute. I did it. Get through the next hour, and the next couple of hours, through the morning, and just to acknowledge yourself for getting through it and for the things you did. Every time you start thinking of the past, that guilt, shame, stigma, and everything that's going through your head, what worked for me was I would say, "Stop," and put a good thought in there. Find a way to change those negative thoughts and take care of yourself.
Is there such thing as support burnout? I just created that phrase, but is there a time where maybe some people are feeling too overwhelmed when they do a lot of research about laws, prison situations or jail situations? Do you recommend maybe stepping away for a short-term of time to recharge batteries?
You've got to have fun. I had a friend that came into town. All weekend long, I didn't do anything to do with criminal justice, prison or support. I had fun all weekend. You need to take that time. I did that. I would say that not so much when my brother was incarcerated and I'm thinking back what I did. I did hiking. I would go hiking on the weekend here. We had a group called Trailblazers and on the weekends, we would go hiking and not think about it. For those couple of hours of hiking and being out there, sometimes I think about my brother, but most of the time, I didn't. It's finding that thing that you love and taking a break.
Going to support groups is important. Go to your support groups. However, take a break in between, whether it's knitting, crocheting, hiking, boxing, dancing, or whatever it is that brings you joy or that you used to bring you joy that now might be difficult because of what you're going through. When you're going through stuff, it's hard. If you remember what brought you joy, just do it. A lot of people don't like this, but I used to say, "Fake it until you make it," because I would fake it and eventually, I'd make it. It was good. That worked for me.
Is it true, and this may be true for you, Julia, I don't know, but families of the incarcerated maybe feel guilty for doing fun things, going on a trip to a National Park, or whatever because they think in their heads, "My loved one is incarcerated and can't enjoy this with us?"
I had that for many years. That's another reason for the book. That's the reason for the support groups because we tell people, "You have to enjoy your life." You have to live your life because if you don't live your life, then you can't support your loved one. The thing we've learned, too, from talking to a lot of people that are incarcerated, they want their family members to enjoy their life. They want their mothers, fathers, siblings, their family, and their friends to enjoy their life.
In one of the interviews I did with Pelipost, the people that started it, the mother was incarcerated and she loved getting pictures from her family. She loved it, so they started this company so that people could send pictures. They help people send pictures. My point here is that this woman loved getting pictures because she felt like she was still a part of the family when she saw those pictures. Looking back, I would have shared more. This is what the book is. The book is to share what I learned, what I would have done differently. It is important.
It's hard when you get a collect call from your loved one because you could be anywhere. When my brother was incarcerated, it was a landline. Now you can get it on your cell. You could be anywhere, out at a museum, out to dinner, and at a party and they could call. It's okay for you to step away, talk to them and see how they're doing, and let them know that you are living your life. It's all about setting boundaries too.
You need to set boundaries between you and your loved one, but you need to accept yourself. Allow yourself to have fun. It might be a little difficult for your loved one at first, but they're going to be happy that you are taking care of yourself. They will come around and say it. Not right at first, maybe, depending on your relationship, but they will come around and say that they are happy that you are enjoying your life.
Let's talk about your book. It was a few years in the making. You released it in 2020. What has been the overall response from readers?
It's pretty much done exactly what I wanted it to do as far as bringing information to people. People have come to me and said, "I didn't know that. That helped me." It also has helped people by knowing that they're not alone. They had come to me and said, "This is good because I was feeling these things and I didn't know if anybody else was."
For me, the biggest thing was to get it out there because I see it as a primer in a way. The way that it's laid out is it has a little bit of my story in there, and then it has helpful information, but at the end of each chapter, it gives you a list of things that you need to be aware of. It's generic in a way because every state, jurisdiction and prison jail is a little bit different. Essentially what you need to know is the same. That information is there all the way from the arrest to the trial, to visitation, to taking care of yourself, different things to do, and things that people don't think about what happens if somebody passes in prison? We don't want to think that, but isn't it good to know that?
Somebody said, and I talk about that in the book too, that it's like a death, with the phases that you go through when you lose somebody. It's like you're losing somebody to the prison system, but they're still there. You still have the grief, loss, depression, and bargaining that you're doing back and forth until you can get to that acceptance, that you accept that your loved one is incarcerated, and you set your boundaries to what you will and will not do.
At times, I probably sent my brother too much money because I couldn't visit, I didn't send enough money, or he would call me at all different times and I had to put some boundaries around when he could call because it would affect me when he would call. That was just me. Some people get calls every day and that's fine. It's whatever works for you, but you need to set those boundaries around that.
Now is a good time to talk about what happened with your brother in more detail. Do you think we should do that now?
That's a good idea because I'm surprised nobody asked. A lot of people know because I have spoken about it to people, but never in a forum like this. In the whole book, nobody knows what my brother was arrested for. The shame and the guilt go so deep that it was difficult even after I did the blog and podcast, and I've been out speaking. I wrote the book. I never said what he did because it was a sex crime. He was accused of having relations with a minor and the minor was under thirteen. This was in Florida. In Florida, if you're convicted of relations with a minor under thirteen, it's mandatory minimum and the mandatory minimum was life in prison.
No matter what your loved one is accused of, you didn't do it. Click To Tweet
We were so ignorant when we went to court because they offered him a plea and if he had taken the plea, then he would have been on the sex registry list for the rest of his life. He said, "I didn't do it. I'm going to go to trial." They tried to avoid trial and gave him a plea. There's a large percentage of people that are arrested that don't go to trial because they take a plea, whether they're guilty or not. They do that because they don't want to take the consequences, but my brother was adamant.
My dad and I were like, "Just take the plea. It's not worth it if you can get life." He wouldn't do it. He was stubborn. Just think, if he did take the plea, my life would be way different. His life would be different because he'd be out of prison. Who knows if he would've still had the Hep C? He would be on the registry. How difficult it is to live when you're on the registry? I have to say this. You could be on the registry for being indecent outside, maybe take a leak somewhere out in the woods or whatever. You could be in the wrong place at the wrong time.
I'm not making excuses. I want you to know when somebody is on the sex registry, it's not that everybody's on the registry is this rapist and this person out there that that's doing all these things. It could be a young person that was on the internet looking at porn. There's a lot of things. My brother was accused of a sexual crime and I didn't know how to talk about it when he was first arrested. Our biggest fear was that it was going to be on the news. No, it wasn't on the news. There are a lot of people that are, but that was our biggest fear. What do we do to protect my brother? What is it that we need to do?
We were so full of shame and stigma. Look how long it stayed with me. There are people on here that probably knew me for years before I even said anything. What's interesting is we do have a support group. When I say we, it's an organization called Prison Families Alliance that meets several times a week. There is one group that is for families who have loved ones who are sex offenders. I didn't realize until I went to that group that I never called my brother a sex offender. I never used that term. It was interesting.
The thing is, there was such a discrepancy between your brother's situation. A lifetime in prison versus 2 or 3 years if he took a plea?
It was five.
Five years or life. I don't think we want to get into all the legal mumbo jumbo stuff of what they do, but that is such a huge range. How could they do something like that where, "If you don't take this plea, we're going to put you in for life?" Florida is not an easy state to be involved with the criminal justice system. It's very strict and conservative. Were you shocked when you heard about that? I know you were, but maybe tell us about that.
I can't even tell you the feeling. If we talk about just everything we didn't know before, I guess we didn't understand life. Maybe we heard that, but it didn't compute because it was something so different and far from anything that we'd ever even experienced. It wasn't until we were sitting in the court, they were deciding whether we go to trial or not, and then this whole plea bargain thing coming back and forth. We didn't understand at all. My brother said he was innocent and didn't want to take a plea, so we sat through the trial. He wouldn't do it.
That's only something that he understands and the only people that will know if it's true or not is him and the other person, the young girl at the time, because we don't know. Until the day he died, he said that he didn't do it and I had to let it go because I don't know. The things that go through your head too is that here's somebody I've known my whole life and how could they do something like this? I would have known. If I was wrong about my brother, what else was I wrong about? It makes you question everything in life. It's a mind game.
Erica wanted to know your brother's situation was state, right?
Yeah.
Florida, you had mentioned that. It's interesting because it's a 97% or 98% conviction rate when it's Federal. That's their conviction rate. It's 97% to 98% or somewhere in that range where you are going to be found guilty with the federal system.
I don't know what the percentage is for the state, but yes, I've heard that for Fed. A lot of the sex crimes are Federal offenses because it's a lot of internet stuff.
How does it feel now, Julia? This was the first time that you've talked about your brother's conviction. How does it feel now to fully open up more about it?
It's important. For so many years, I kept it inside and there's so much shame and stigma. There are several people on here too, whose loved ones have a sexual conviction or waiting to go to a trial. It's hard and it's something that we need to talk about because no matter what you're going through, no matter what your loved one is accused of, you didn't do it. It's setting those boundaries and to know that you can go on.
Did you want to say anything else about that?
My brother's crime was a sexual crime and that's why I didn't talk about it, but people have other things that their loved ones may have done. There are circumstances where we know of young people, friends whose sons, I could say plural because there's a few that are incarcerated for second-degree murder because they were with somebody. They didn't know that the other person had a gun. For some reason, they pulled it out and your kid is standing here, and now he's accused of second-degree murder.
The other thing is to raise awareness that there are people that do bad things, that should be incarcerated, and should be in rehabilitation. However, there are a lot of people that are in the wrong place at the wrong time. That's where the compassion and empathy come in, that not everybody out there has done something horrible.
We need to understand that and to know it can happen to somebody you know, so to be aware. That's the main reason why I did write this book is because there's information in here that will help anybody, whether they have somebody incarcerated or not. That's why it's so important that it's not like I want to be out here and say, "I want to sell this book." I want everybody to read it because it has such good information in here. This is everything that I wish I knew, so I'm done.
We are not done. We're hoping that you're going to write a second book. Do you think that's in the works?
I'd like to update this one with more things that I've learned and I definitely want to do something on re-entry because that's a whole other can of worms when somebody comes home. There are different circumstances, but when somebody goes in at 18, 19, 21, and they come out 10 or 20 years later, their mentality is going to be at the age that they went in. There are going to be so many things they have to learn and it's preparing the family for when somebody comes home, that when somebody comes out that they have that decompression period that they can reintegrate with society. There are many things that the family needs to know.
There are several people in here I know that had somebody come home and it's worked out great and that's wonderful. That's a small percentage maybe because they've just been in a couple of years, but also because they kept the family unit together. They spoke, visited, and had that community, but there's so much more that people on the outside need to know, and that I'd like to do that. Maybe someday, I'll write my brother's story. I've got about 5 or 6 bins of stuff over the fifteen years, but now doing the show. The show to me is most important, telling people stories and raising awareness that way.
Jolene says, "Families of those who have truly done something horrible deserve love and support too. That's why I love how compassionate your program is for everyone." That's very true. No matter what your loved one has done, from a DUI to murder to a sex offense, everybody deserves support and obviously, that's Julia. That's what you're doing with your book, podcast, your public speaking, and whatever it may be. If people don't know your website, it's PrisonTheHiddenSentence.com. Is there anything else, Julia, that you want to talk about?
I'd say the best way to support me is to let people know about the book, to purchase the book, have one handy to give to somebody. If there are groups that you're involved with, let them know about it. I wish I had this and I've had several people tell me that they wish they had it years ago, just like they found the support group. I don't have this support group in here because Barbara Allan and I took our groups and created Prison Families Alliance. As far as the support group and this book, this will help anybody get through having a loved one incarcerated, plus anybody that maybe is having a problem with their kids or you need to know this before it happens. That's why it's so important.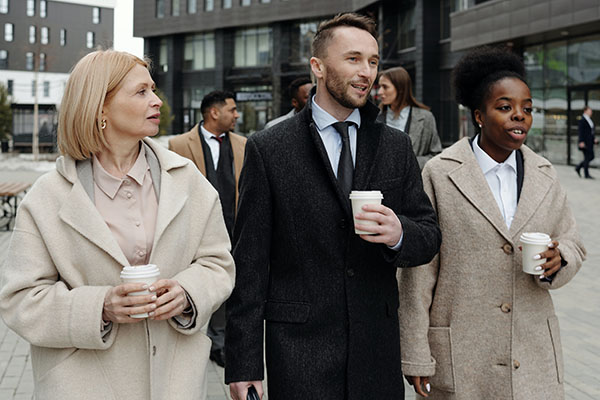 Yes, in advance. Also, I check out your podcast a lot and you do have a lot of episodes, which is wonderful. You have a lot of great resources, a lot of interviews there that can also be very handy for information for the prison family.
The other thing that I wanted to bring out about families is that it's difficult and it causes a lot of discourse in families. It is in the book, but my parents disowned my brother. I pretty much said my mom wasn't well and I had taken care of him a lot of his life growing up, so I had a big feeling of responsibility for him. We were always close. It took a big impact on me and some of you can relate to the day that he was found guilty, and the days after, just that pain in your heart or gut, that overwhelming pain, that loss that people don't realize that when somebody is taken into the prison system, how that affects you. We can have empathy when we hear about it. If you hear that, "Joe's son down the street went to prison," that you don't say, "He's a bad egg." You go over and say, "Joe, is there anything I can do?"
That's what we talk about, compassion and closing the empathy gap. We don't walk away from people. We can be open and we can ask them and support them. It's as simple as, "How are you doing? Have you been able to see your son?" Not like, "What did they do? Why are they in?" That's not going to help, but to be able to go in and say, "How can I support you? How are you doing?" That's what is important.
Any plans to release an audiobook? That was a question from Mike.
I can read it. I never thought about it. I'll look into it.
We shouldn't walk away from people when we can be open to them and support them. Click To Tweet
We're getting closer to the end, but I want to thank you too, Julia, for your bravery. I've seen that in the comments, too, about your bravery about talking about that. Maybe it could be a fear of not being fully supported because of the offense. Some people think, "My family member did this, so I'll probably have some support and it doesn't have the stigma so much attached to it."
For example, if your loved one has a drug issue and has been involved in drugs and is incarcerated, there tends to be, in my opinion, more of an acceptance when they get rehabilitated, but certain crimes, it's tough, especially when it comes to sexually-based crimes. Thank you for talking about that. Anything that you'd like to talk about, Julia?
No. I want to thank everybody for being here and for reading. I hope that it was helpful that we did raise some awareness here. Maybe there's something you heard or learned that you didn't know.
---
This is Julia and I want to tell you about the Prison: The Hidden Sentence book. There are many things that you need to know when a loved one is taken into the prison system that nobody tells you. This book will provide valuable information to help you as you go through the stages of the prison system with your loved one. I also share stories that you are not going through this alone. Prison: The Hidden Sentence book can be purchased on Amazon.
Important Links:
About Julia Lazareck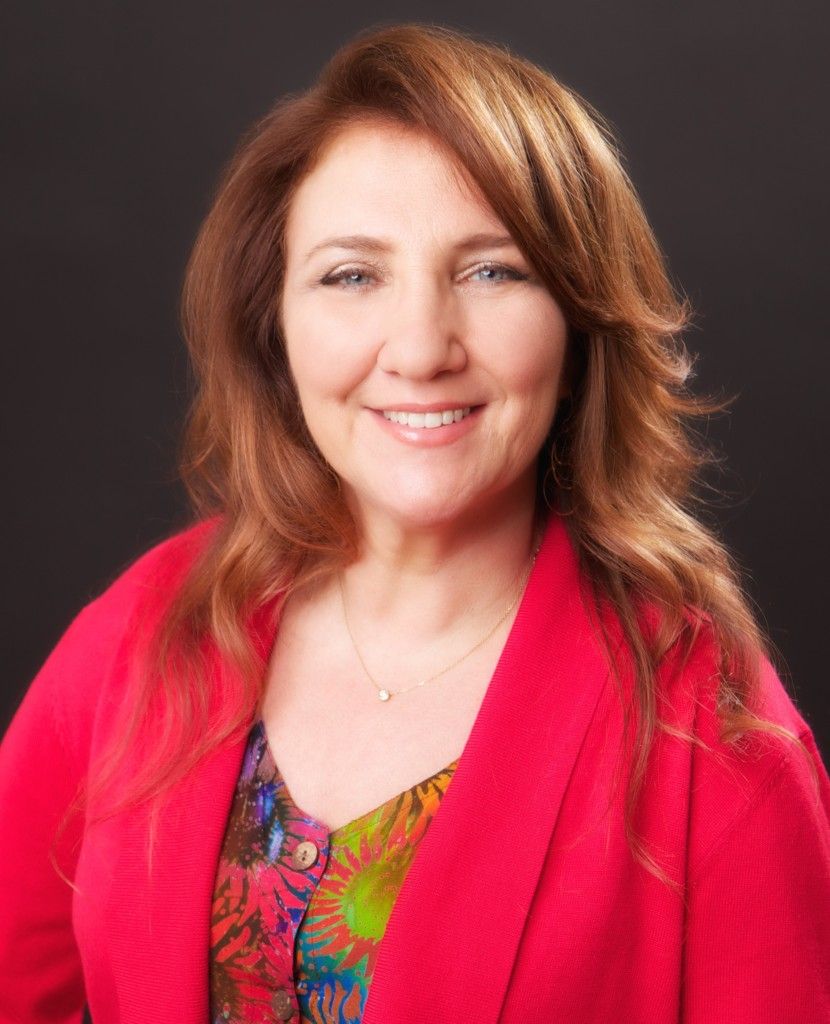 Julia Lazareck is an advocate for change for family members who have loved ones in the criminal justice system. Through her blog, podcast, publications and presentations, she provides information on the prison family journey.
Julia also works with non-profits that offer support to families and children and is co-founder of Prison Families Anonymous.
About Matt Duhamel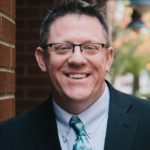 From being nominated in 2017 for a Utah Film Award for my short documentary, Life Under The Horseshoe, to covering Sundance Film Festivals, The Outspoken Offender's mission is to take his negative experience (2006 arrest), and encourage others to look towards success even though they may face social stigma and rejection.
Love the show? Subscribe, rate, review, and share!
Join the Prison: The Hidden Sentence Community today: