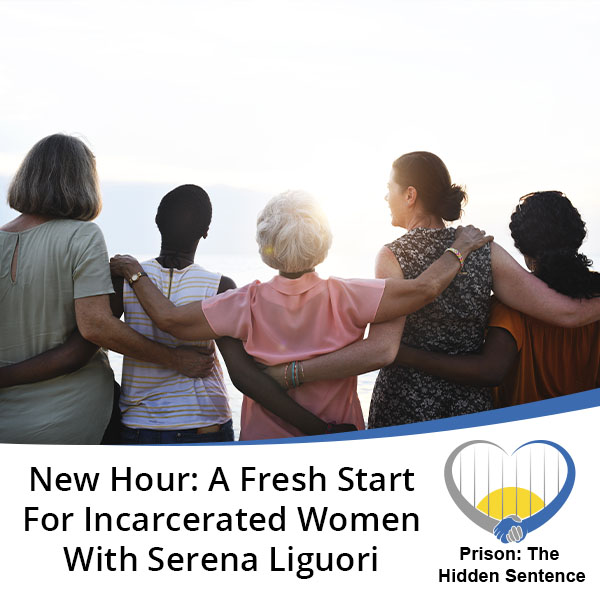 Incarcerated women deserve to move forward with life. We can have a fresh start, be happy and live meaningful lives if only we know how to find the much-needed resources. Join Julia Lazareck and the Executive Director of New Hour Serena Liguori as they delve into seeing yourself in a different light, thinking healthy thoughts and moving forward. New Hour is a nonprofit dedicated to supporting women and children impacted by incarceration. Serena shares how she started her journey when she recognized the need for certain types of programs, so she decided to create solutions. She also provides insights into the struggles and triumphs of incarcerated women and their families. Let's open our minds and hearts in this episode as we discuss the powerful ways that could help them get back on their feet.
—
Listen to the podcast here:
New Hour: A Fresh Start For Incarcerated Women With Serena Liguori
I'm here with Serena Liguori, the Director of New Hour for Women and Children. This program provides support for incarcerated women and children, as well as re-entry support. Their mission is to provide meaningful support to current and formerly incarcerated women, their children and their families. They build a community to promote successful re-entry and lasting re-integration, and to reform unjust criminal justice system policies. They empower directly impacted people to use their experiences to affect change in the carceral system. They understand the need for specialized support for mothers whose pathways to prison or jail are often tied to domestic violence or substance abuse.
By providing mothers with parenting skills, work skills and wellness programs during and after their incarceration, they seek to support healthy relationships and end the trauma children of incarcerated mothers face. Some of their programs include EMERGE, which is Empowering Methods for Effective Re-entry Growth and Engagement. They also offer re-entry programs, Project Dignity, and hold monthly support meetings and empowerment workshops. Serena's going to share her story and tell us about New Hour. We'll learn about some of their success stories. Serena, thank you so much for being here. It's helpful to start with the reasons why you do what you do. It takes a lot of time and energy, along with empathy and compassion to do what you do. Share with us, why did you start New Hour?
Thanks so much for having me. It's great to be here with you. Much of my history goes way back to Barbara Allan who founded Prison Families Alliance now as it's called. Barbara was a friend to me through a referral. Several years ago, Barbara Treen, a former parole commissioner who at the time was doing criminal justice reform work, was visiting in the prison. She heard from a friend that there was a nineteen-year-old from Long Island who could use some support. Barbara Treen helped found and worked to support Barbara Allan when she created Prison Families Anonymous at the time. Barbara Treen put Barbara Allan in touch with me. Barbara drove up to Bedford Hills and came to visit me. She said, "You don't know me I am from Long Island and I would love to support you in any way I can. I run support groups for families and people who come home."
At the time, I was very overwhelmed and in a state of crisis. I was looking for support and she offered it to me. Fast forward, several years later, I was working in the city at the Correctional Association doing policy work. We were in Albany working on policies and laws to support women who've been incarcerated and to change the conditions of confinement for women behind bars. After I had my son, I moved back to Long Island. From there, some of the folks who I've worked with in the city, namely Sister Tesa Fitzgerald, reached out to me and said, "Would you like to do something on Long Island?" I said, "Yes, there's nothing here for women coming home from incarceration." At that point, there were no programs in the facilities, helping women with self-esteem, self-awareness, parenting classes, all of the things we now do. Sister Tesa, interestingly enough, was part of my children and families committee when I worked in the city. She co-chaired one of the committees I oversaw. She said, "I've got to put you in touch with this couple." I said, "I'll meet with them." She said, "You've got to meet with George and Patty Kraus. Patty has been volunteering, going into jail. She recognized fairly quickly that women there had no services.
She saw that there were no services out there and you took the next step. How did you go from seeing all of this happening from your day job where you were working, having people come to you with more information, meeting more people and saying, "There's a need here?" A lot of times people will see a need but they don't take the next step. What was the next step?
I sat down with George and he said, "What would you do if I was able to provide some funding to start a program for women?" I said, "I would create a program that would allow re-entry support and wrap-around services. Most importantly, ending the stigma and shame that all women and many men face when they become incarcerated." There's the shame and stigma that their families feel, the embarrassment and guilt that come when a crime is committed or when harm is done. A lot of our women are very similar to me. They are survivors of family violence, family members with mental illness and domestic violence. The things that may have led them to become incarcerated, we ask and require accountability from them. As a community, we certainly want to ensure that we are promoting ways in which we can keep ourselves and our community safe and take accountability. We also recognize that there was a huge void or a desert in terms of what it is that women have experienced before incarceration, and the ways in which being in prison or jail creates and perpetuates more harm and pain to them. In many cases, physical harm, violence, depression, and many other things, whether it be through the systemic carceral system itself or at the hands of corrections officers or staff. Prisons and jails perpetuate that shame.
One of the things that we decided to do was to come up with a vision plan. I drafted a business plan of what I would imagine our services and programs to look like if we were able to provide exactly what was not provided to me when I was a teenager. I met with a small group of volunteers, shared the prototype and the businesses plan. We got feedback, created a budget, and had Sister Tesa's organization, Hour Children, in Queens agreed to be our fiscal sponsor in year one. At the time, George and Patty said to me, "Would you run the organization?" I said, "No way. I'll help you find someone. I'll even help interview people for the position, but I just don't think I'm competent and I have the skillset." At the time, I was a policy director but not an executive director.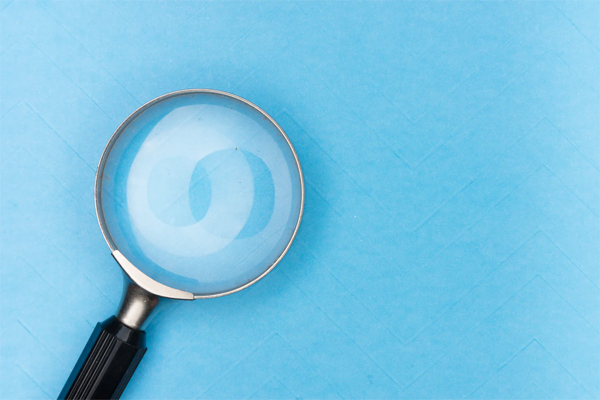 Frankly, my many years of incarceration and even family violence left me feeling that I couldn't adequately do the job. Looking back, it's interesting because I vetted a lot of the candidates for the position, interviewed them, trained them, and helped them decide how to run an organization. That's when I realized, "I could do this." About two years into the inception of New Hour, 2014, we were fiscally sponsored. We got our own 501(c)(3) nonprofit status in 2015. Our amazing executive director, who I found for the organization and interviewed ultimately decided to leave. She said what many of us say in the nonprofit world like, "This is demanding. I have small children and I have family priorities. It doesn't pay enough," and all of those things. She still to this day is very supportive and stays in touch.
At that point, I was a board member. I was president of the board at one point, then I was treasurer. I wore different hats over the years but always stayed engaged in helping to create the vision. I went back to George and I said, "I would be interested in filling the shoes of the executive director." He's a great guy. He's created a lot of for-profit businesses. He said, "I've never brokered a deal that I didn't get. When I tried to get you, I couldn't get you. Now I'm getting you for the job. My record is not broken, it's clean. I was able to get this to work." That is when I came in as Executive Director. We've been building and growing ever since.
You got to do it when the time is right for you. Especially being incarcerated and coming out, your lack of self-esteem and things that you go through. It makes sense. When women or mothers come out, you build their self-esteem because they can do it. I'd like you to talk about some of the programs you've established that can help the women who are coming out. Also, people who are reading might not have programs in their area. What are some of the things that they can do?
One of the cornerstones of the work that helps us create efficacy and ensures that the program we are doing is done with fidelity is ensuring that we cross our T's and dot our I's. Our program staff here, our Director of Programs, Danielle Donaphin, before her, Rusti Miller-Hill, who spent many years incarcerated herself. Our staff understands the issues of incarceration because they've had family incarcerated or they've been there themselves. It was very intentional when we hired them and when we hire in the future that we hire people who are dedicated to the mission, who understands what it's like to walk in the shoes of someone who walks through our doors.
We work with a little over 1,000 women annually in the three jails across Long Island, two in Suffolk, one in Nassau. We receive calls from prisons. In fact, we've received calls from transgender women and men's prisons across New York State. We've worked with women who never thought they would be paroled after 25 to 30 years. They were and came back to Long Island. One of them is 67 and she was in our office after serving 25 years, a survivor of abuse. She said, "It is so amazing to have a safe space to come to." When I think about that, that is the core of our mission. To create a safe space where women have a community. Where other people understand what they've been through and can help support them through our monthly support group meetings and our leadership program. It happens twice a year for fifteen weeks, two semesters.
We ask people to apply. We interview them. We take it very seriously. It's called Empowering Methods for Effective Re-Entry Growth and Engagement. That program is focused on how do you find resources for yourself, how do you find your voice, how do you advocate for change in a system that is set up to often fail women, women of color, poor women and women who've been impacted. One of the intentional things about our work is that we want to give our women opportunities to lead. We don't want to just hand out gift cards and food baskets. We do all of that but it's not just about the giving. It's about, how do we empower women to make a better future for themselves and their families. We do that in a few ways.
It's our health and wellness program in the jail. It's about seeing yourself as someone capable of determining your future. Many of our women feel that just because they've been incarcerated or survived unhealthy relationships, that they suddenly are not capable of starting fresh. One of the things we say to women is, "This is your new hour." Many of our women say, "This is my new hour." We had Deanna come in and visit one day. She has been with our program for six years and she said, "I love my New Hour family. I'm never leaving. I'm always coming in." For her, it's a space where she can feel welcomed, supported and encouraged. That's so important because we don't have a lot of those spaces in our community, in general. I've had women say, "I've never been incarcerated but can I come to your support group meeting?"
There are a lot of wonderful opportunities for incarcerated women and their families that would empower them to live again.
Click To Tweet
Having a community is so important. That builds a lot of self-esteem and it shows people that they're not alone. There are a lot of women out there that might not have programs in their area. What is something that they can do when they first come out of prison or while they're incarcerated? Something they can do for themselves to empower themselves. What is the first step they can take?
The first step is reaching out. We accept collect calls from all over the state, the country. Women can call us from any prison jail that they're in if they'd like to. They can write to us at our PO Box 213 Brentwood, New York 11717. One of the things that I wish I had done more proactively when I was incarcerated is to reach out for resources. Often, fear will stop you from reaching out and asking, "Is there housing? Is there support? Is there someone to call? Is there someone who cares about me and my situation?" Many of the phone calls we receive and the visits of women we meet with, they are unaware that there is a whole network of support out there. You just have to find it and search for it.
We have social workers on staff who will help our women find those resources. Most importantly, self-esteem is such a tough thing. Many of our women, 9 out of 10, are survivors of abuse. When you think about it, what do you say to yourself? What is the self-talk that you say? That's hard when you're incarcerated. I remember my number 99GO749, that's with me 27 years later. The identity that unfortunately is part of your experience doesn't have to be your identity. Yet, many of our women give up before they've even begun. It's about your mindset. It's about, "I'm going to be positive. I'm going to seek support and reach out."
Our programs have a 2% recidivism rate as opposed to 65% across the region here. Many of our women say, "What I've changed is the way I think about obstacles. I've changed my approach. I'm not as angry or I don't lash out. I don't shut down and lock myself in my room and isolate. I think proactively about how do I look for help." Those are the women who do best. It's because we're able to work with them to help them understand, "What are your trauma triggers? What are the things that get in the way of you being able to accomplish your goals and dreams?"
It's changing the mindset. When things come into your head, how do you change that from the old thought to the new, healthier and empowering thought, and to see yourself in a different light? Everybody is powerful. Everybody needs to find their power because they have the ability to do what they want to do even though they might think that they can't do it. Having people around them to support them is helpful. Even if there isn't a program in their area, there are lots of resources out there. A lot of prisons and jails do have programs. I know a lot of them were not available during COVID. However, if they do seek programs and support, they can find it. They just need to realize that they are available and they deserve to move forward. That's a big thing too. We find that with a lot of families. Do you have any words of advice for the families on how they can support their loved ones?
Family members have such a tough time because you imagine the worst for your loved one. You imagine they're in the worst conditions, and they may be or may not be in the prison. The other thing that's challenging as family members, you want to fix everything, make everything okay, bring up the commissary, and solve the problems. It took me over twenty years to fully get on my feet, to affect my own change, find my own voice, and create my own sense of empowerment. For families, patience is so important. You can enable people or you can say, "We're going to walk this road together."
One of the women who was like a family member for me was Sister Elaine Roulet. She founded the Children's Centers in all of the state prisons across New York State. I worked for her with the mentally and terminally ill women in Bedford Hills, the max facility in Bedford, in New York when I was there. She simply sat next to me when I was denied parole. She simply held my hand. Part of the support that we offer and that family members can offer is bearing witness. Simply walking the road with the family member, the person, the friend. Not necessarily giving what you think is best or what the solutions are.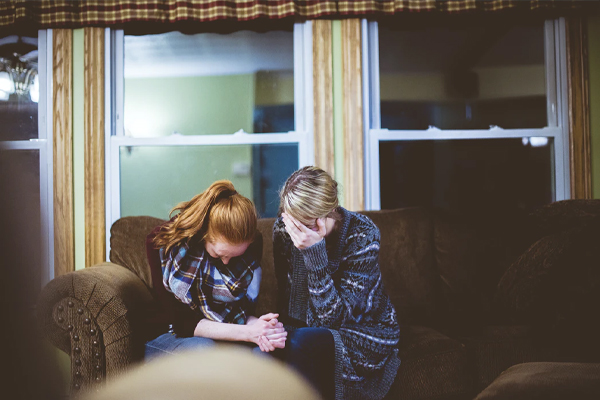 It's very much like having a child. You want to protect them so badly from anything that could harm them in life. As family members, there's such a fear of what's going to happen to my family member. For me, I had a family member who was incarcerated in a forensic facility. I did my best to bring packages, food and supplies but ultimately, I don't live there with them. I don't know what they're going to experience every day. In fact, they were harmed and I couldn't do anything about it. It's important that families get support and have support services to talk and feel things through and work through. A lot of the kids who come through our doors feel tremendous responsibility for their mother who has been incarcerated. They often have played the parent role. For younger children, they feel the stigma and shame that their parents have been incarcerated.
One of the things we love to do is have our leadership graduation where each of the women gets to share a speech about what the program meant to them. Their kids sit in the audience and watch, and see their mothers in a powerful role as a leader, a speaker, and somebody engaged in changing the system that harmed them. That is such a great teacher for children to see that their parents are not just somebody they visited in jail and saw in a jail jumpsuit. It's someone who's able to take something bad that's happened and maybe poor choices or surviving abuse, and turn it around and do something positive with their lives to give back.
Aside from yours, do you have a specific success story that you could share with us?
I shouldn't say my favorite, I have a lot, but the woman who stopped by. She went through our leadership program. I met her in the jail. She suffered from some serious issues that she was trying to cope with, including depression, anxiety and surviving abuse. She did an internship at our office. She's come to our events. She's got a job where she's doing amazing work. She stopped by and she said, "This is still my favorite place to visit. I've got my life back together. It's been four years but to come back here, I feel like I'm home." I love the fact that we can provide that space and she's doing amazing work. She's driving a truck and got her license to drive a truck across the country, to California and all over the place. She's become independent and economically independent, which was important for her. She's taking care of her children and her grandchildren. She's helping the next generation and supporting them. I love to be able to see our women grow into who they're supposed to be and are meant to be. Watching them pay it forward to the next generation. It ultimately heals that cycle of intergenerational violence and harm and incarceration.
It reduces recidivism. You were saying, for you, not that it took the full twenty years, but it took about twenty years for you to take hold of yourself, empower yourself, feel your strength and do this beautiful work that you're doing. With your programs, you're taking what you learned and it's taking women that are coming out of prison that is incarcerated and coming out less time to do that because they're going through your programs. They don't have to wait twenty years. This woman, it took her a couple of years. To be able to turn your life around in just a couple of years, that's admirable. It sounds like the programs are helping a lot of women.
It's interesting that you say that because the pivotal moment that allowed me to see my own power and seize my own voice was when I was hired at the Correctional Association about five years after being incarcerated. I applied for a position to work with women. It was their Women in Prison project, which would monitor prison conditions, visit the prisons, go to Albany and advocate for change. I remember watching a DVD that they had, Lobby Day, an Advocacy Day to Albany. It was that moment watching that video, I was probably 25, where I suddenly realized how powerful it is to be able to say that what happened to me, being incarcerated, my story is not something I have to hide the rest of my life. In fact, it's something that lawmakers are going to want to hear and listen to simply because they want to change the system for the better. It was that a-ha moment where I suddenly realized the power of not hiding the incarceration I had faced and stepped into true freedom.
For so many of our women, to know that they can meet with a lawmaker, it's why we love doing policy work. We marry direct services with policy work because you can do a lot of direct service work. If you haven't ultimately changed the system that's harming generations, what good is it? That's something I've always felt. I don't want to just help myself. In fact, the best way to help myself is to help others and create systems that create equity, sustainable fairness and justice. It was interesting to see lawmakers that that's their intention, that's what they wanted to do. They've been effecting change ever since. In 2009, we worked to pass the Anti-Shackling Law in New York, banning the use of shackles for women in labor, which up to that point was very much the standard case.
You are capable of having a fresh new start and determining your future.
Click To Tweet
When you think about that, it's crazy that even happened.
We've heard stories of shackling happening even after that law passed because of how the jails interpret the law, how implementation happens, and how the prisons interpret the law, it all is dependent on each prison superintendent running things the way that they deem credible. They're out of compliance with the law if it's in the law. There are many barriers that are put in place for people who are incarcerated. I like to think that post-George Floyd, we are connecting the issues of racism and segregation to the issue of over-incarceration of black and brown people.
As a Latinx woman myself, I remember going to prison and being shocked that almost everybody there was Latinx or black. It just didn't make sense to me, at the time, why is this happening. Now we know that there's such intentionality that's driving the overuse of incarceration for poor communities, black and brown communities and ultimately for women. Women often receive longer, more harsh sentences than men. Women often are looked at differently by the judicial system than men, "Why didn't you stay home? Why didn't you stay taking care of the kids? Why were you out using alcohol and substance abuse disorders?" In many ways, women are over-judged and incarcerated as a result of a misogynistic system, to begin with. When you pull in the criminal justice piece, women don't often have a fighting chance.
That's why it's so good to have programs like yours. It would be great to be able to get to the women before incarceration. However, you need to start somewhere. By helping the women that are incarcerated that are coming home, they can pay it forward so the next generation doesn't have to face the same issues that they have. That's helpful. You spoke a lot about the advocacy that you're doing, which is going to make changes. You've made some changes like having a woman shackled when they're giving birth. It's things that people on the outside don't think about. There was a whole movement where women weren't getting feminine products. That's changed in a lot of places.
People on the outside don't think about things like that. People that are incarcerated are still human. They're still mothers and people. By humanizing it and getting the word out and having people talk about it, especially like what you were saying about your story that you felt empowered when you were able to talk about your story. That removes the shame and the stigma. People need to talk about it in a safe place and at the right time. You need to know when and where. However, more people become aware by talking about it, and that's how we raise awareness and close the empathy gap. I wanted to talk about your program that's coming up.
Prior to COVID, we were hosting monthly support group meetings in person for our women. They could bring their children if they wanted. We had activities for them. Every year, we do a back-to-school backpack barbecue. We'd give away 150 backpacks to children who had a parent who'd been justice impacted. In 2020, we couldn't do it because of COVID. In 2021, we donated backpacks. We had to drive through, people picked them up. It will be the first year we're back, barbecuing and having our kids there and giving away our backpacks and creating a community where so many of the women have so much in common.
To your other point about policy reform, during COVID, we rallied outside of the New York State prisons. We took collect calls from women who said, "We're not getting any PPE. We are not getting any phone calls." In fact, many of the mothers and women behind bars didn't receive visits for 8 months, 9 months, sometimes a year in Rikers Island. We saw the world wasn't prepared for a pandemic, but the jails and prisons were completely unprepared. In fact, many of the women were spending 23.5 hours in solitary confinement. Even in the local jail, we heard that women were only getting a half-hour out of their cells. As a way to combat COVID, they were creating egregious solitary confinement. We saw the Solitary Bill passed in session and become law, outlawing the use of 23-hour locked in cells. COVID created a way for that to continue to happen.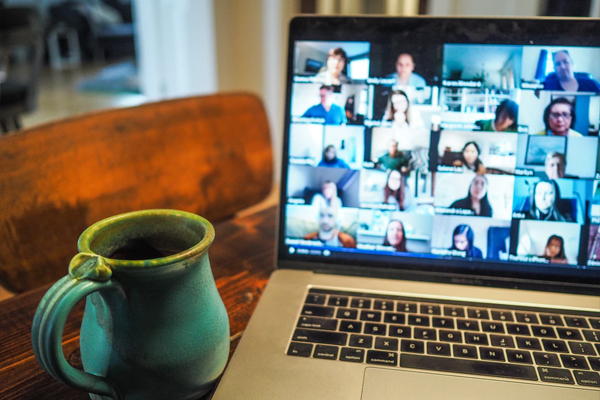 Much of the policy work we're doing now is simply to create humane conditions. There's still a problem with reproductive health products in the facilities. There are still challenges with same-sex relationships and visits from children. If nobody is overseeing what happens there, what happens behind closed doors, nobody will know. That is an important role that families should and can play in making those phone calls to the facilities. Making sure that they have a relationship and that their loved one is not forgotten. What we've seen is people who have nobody to advocate for them end up languishing and often dying there.
One of those was a woman who was there when I was incarcerated. She died of cancer in New York State. She served almost the longest sentence of any woman in New York State. It was something like 45 years. She died because they didn't diagnose cancer in time. She died just a few months before her parole board. She went in as a young teenager and I remember her. If you need extra food or extra bread, she would be the one to say, "Here, take this." She was compassionate and lived her whole life behind bars.
That is one of the reasons why we ultimately engaged with another nonprofit, Release Aging People in Prison, to look at why are we allowing elders behind bars to simply die there? What kind of justice are we talking about where people have served 20, 30, 40 years and they're completely safe to come home? They are maybe going to come home to their families and live a quiet life because they're in their elder years and yet parole boards deny. We realized fairly quickly that parole denials often have to do with the nature of the crime and not necessarily how you've transformed, what you've done behind bars, how you've proven you've changed, and become a better person since you first committed a crime or think differently.
I received a collect call from a woman who spent 34 years in prison. She was denied parole for ten years. The last ten years were parole denials. It's a travesty. It's a miscarriage of justice to see that this is how parole boards are functioning. We and our members have been very much involved in advocating for those kinds of changes. We're going to continue to advocate. We've seen in New Jersey prisons serious sexual assaults to the point where the prison is being closed. Simply because they had a rampant miscarriage of justice there and tremendous, awful sexual abuse in that women's prison. One of the things that we hope to do is create some gender equity and some trauma-informed support for women behind bars in terms of conditions in New York State.
Thank you for opening our eyes. There are many things that go on that we don't realize. There's so much. It takes groups like yours to go in there to advocate for people. We do tell family members to create relationships. They can call the prisons and jails. A lot of people don't realize that. They need to pick their battles when they do call, you create the relationship. You can ask questions and advocate for your loved one. Sometimes people are afraid that if they do call, they will cause problems for their loved ones. If you're creating that relationship with the warden, the assistant ward, the superintendent, with the caseworker, with the parole officer, anybody that's out there, if you have that relationship with them, you can ask them questions and advocate better for your loved one. There's a way to do it. Going to the support groups, learning, and talking to other people gives you the power and the information that you need to be able to do that to advocate for your loved one.
There's a lot of fear. We receive a lot of phone calls from family members who say, "I'm so afraid that they're going to retaliate against my loved one." I don't want to say that's not realistic because it is. If you do your very best to go with the right tone, you make the phone call amicable, sometimes you reach out to groups like ours, who can also make a phone call. Sometimes jails and prisons listen to family members. Other times they don't. That is where nonprofits like PFA and New Hour can step in and be helpful too.
There is a level of accountability that corrections fear for being outed for doing wrong. In a way, it's important to call them to task on things that are not going correctly. What I found with a lot of our sheriffs, they want to do the right thing. They often have staff underneath them who may not have done the right thing. The premise for the sheriff's department is usually not, "We want to harm everyone." It's more that they want to maintain control, but also they want to create usually humane conditions. It depends on who you speak to and how you get the right person to address your issue that your family member may have.
Supporting and empowering women to make a better future for themselves and their families would greatly impact society.
Click To Tweet
There are good people everywhere. We have to remember that. You can't say everybody's bad because there's good and bad everywhere. On the inside, outside, law enforcement, criminal justice, whatever you're looking at. It's to find those good people who will help like Serena's group and other groups out there in your area. Take care of yourselves, listen to the podcasts, learn from them, go to your support groups. If you have something major, call your legislatures because they work for you. Anything you need, there's a resource out there for you. Serena, I want to thank you. You've shared so much. Are there any last words of wisdom that you have for families and what we call returning citizens or people who are coming home back into society?
Continue to stay connected. Join as many email list serves and join as many Zoom calls as you can. Information is power and knowledge. You can reach us at our office at (631)273-3300 or you can always check us out on Facebook, Instagram and Twitter. Our website address is www.NewHourLI.org. We're here. Even if we don't have space outside of New York, we can often refer to other agencies that we know in other states who are doing great work. The squeaky wheel gets the oil. It's important that family members and even those behind bars reach out and find that support, those answers to questions because, unfortunately, the system is set up to fail people. In order to get around it, you have to network and those communities of support.
Create the success, I hear you. I just want to thank you again. What you're doing is wonderful work. We need more New Hours out there.
Thank you, Julia. The work you're doing in Nevada is amazing and across the country and the work of PFA. It's exciting to see it growing and blossoming. We're living in a time where more people are impacted by incarceration. Everybody knows someone who went to prison or jail. We saw the Department of Corrections in New York City appoint Stanley, who was with Fortune Society, to a Deputy Commissioner position. How amazing to see people who were prisoners, harmed behind bars, to now be leading the charge to create support for people returning to our communities. That is key. Many years ago, Eddie Ellis used to say, "We're doing this because there's nobody else out there who's doing it for us. We are the voices who've been harmed and we're the voices who are going to make the change." That's very true now.
That's a good place to end it. Voices be heard. Speak up. Talk about it. Keep your power and lead with compassion. Thank you.
Thanks, Julia.
—
I want to tell you about Prison: The Hidden Sentence book. There are many things that you need to know when a loved one is taken to the prison system that nobody tells you. This book will provide valuable information to help you as you go through the stages of the prison system with your loved one. I also share stories so you know that you're not going through this alone. You can purchase your copy of Prison: The Hidden Sentence book on Amazon.
Important Links:
About Serena Liguori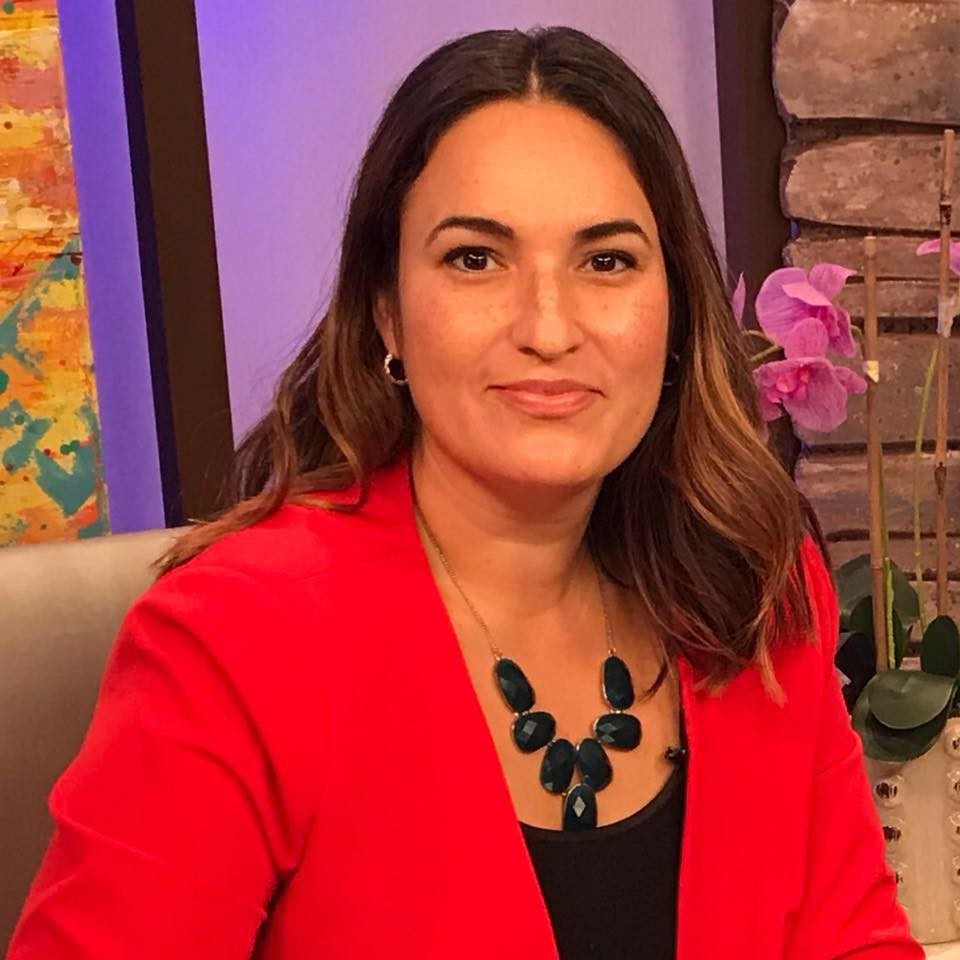 Serena Liguori serves as executive director of New Hour for Women and Children—Long Island, a nonprofit dedicated to supporting women and children impacted by incarceration. New Hour provides direct-service programming in the Suffolk County jails and reentry support to women across the state returning to Long Island.
Prior to leading New Hour, she was the executive director of Herstory Writers Workshop, a nonprofit dedicated to bringing marginalized voices into the public arena. Serena served as associate director of policy at the Correctional Association of New York's Women in Prison Project, where she spearheaded legislative initiatives and policy advocacy addressing prison reform. She was the key organizer of a successful effort to create the Adoption and Safe Families Act Expanded Discretion Law, which works to secure parental rights for incarcerated parents as well as the Anti-Shackling Law, which prohibits the shackling of incarcerated mothers during labor.
Serena is a survivor of isolated confinement, received her associate's degree in the College Bound Program at Bedford Hills Correctional Facility and her bachelor's degree from Adelphi University. Serena co-leads the Justice for Women COVID-19 Task Force along with WCJA, serves on the Suffolk County Police Reform and Reinvention Task Force and Governor Cuomo's NYS Domestic Violence Task Force. She is a recipient of the 2018 Citizens Against Recidivism award. She enjoys preparing her family's favorite traditional Puerto Rican meals.
Love the show? Subscribe, rate, review, and share!
Join the Prison: The Hidden Sentence Community today: